Remembering Lynn Robertson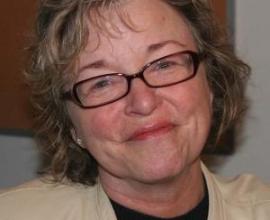 With grief and sadness, we share the news that our friend and colleague, Lynn Robertson, passed away on Monday, October 4, 2021. She had enjoyed a wonderful weekend with her family in Portland, Oregon, and passed suddenly during the night.
We invite you to leave any remembrances here that can be shared with her family, friends, and colleagues. Lynn was a force of a nature and she will be greatly missed by all those whose lives were made better through knowing her.
(adapted from "Our Female Ph.D. Graduates at Berkeley", celebrating 150 years of women at Berkeley.
https://psychology.berkeley.edu/psychology-part-ii-our-female-phd-gradua...)
Lynn Robertson received her Ph.D. in cognitive psychology from UC Berkeley in 1980, working with Stephen Palmer. She served as a research psychologist at the Veterans Administration Medical Center in Martinez, CA from 1982-1993 and on the faculty at the UC Davis School of Medicine, Departments of Neurology and Medicine (1984-1998), where she rose through the adjunct professor ranks. Lynn returned to UC Berkeley in 1998 as an adjunct professor in the Department of Psychology, Vision Sciences, and the Helen Wills Neuroscience Institute, while also a Senior Research Career Scientist in the Department of Veteran Affairs. She was last an Adjunct Professor Emerita at UC Berkeley.
Lynn's research in cognitive neuroscience has contributed significantly to our understanding of how the parietal lobes "bind" different features of incoming visual information to recognize objects and their importance. Think about a gray ball coming towards one's head—one has to rapidly encode, using different regions of the cortex, the color, shape, size, and movement, to understand this is a ball and not a rock. Lynn's work helps us understand the brain regions and cognitive processes shaping this binding. She used neurocognitive measures in healthy persons and those with well-defined brain lesions to study these processes. Her work has major implications for understanding visual disorders in those with neurological injury and disease, including those with unilateral neglect, prosopagnosia (face blindness) and congenital visual-spatial deficits.
Dozens of her articles, including work published in Nature Reviews Neuroscience and in the Proceedings of the National Academy of Sciences have been cited more than 100 times. She is the author or co-author of four books—including books describing cognitive neuroscience findings in synesthesia, spatial processing abilities, and (with Rich Ivry) hemispheric influences on perception—and over 200 research articles. She had garnered sustained research funding, mentored generations of students, shouldered numerous administrative and committee roles, including the advance of women in neuroscience, and had been named a fellow of the American Association for the Advancement of Science, Association for Psychological Science, and the American Psychological Association.
Comments from Friends:
Lynn was actually one of my first, and among my best and most successful. graduate students. She came to Berkeley back in the days when the Institute for Human Learning was still around and headed by Leo Postman. I think Lynn was supported by an IHL fellowship in her first couple of years when I was still an Assistant Professor. I remember when she struck out on her own after graduation to start doing some new-fangled thing called "Cognitive Neuroscience" at the Martinez VA and wondered what would become of her. But she got in on the ground floor and really made a name for herself back in the formative days of the movement. My favorite of all her work was the later research with Anne Treisman on attention, feature integration theory, and Balint syndrome, though there were many other noteworthy contributions during her long career. I was particularly pleased when she came back to join the Berkeley faculty where she began her journey.
Lynn was a force to be reckoned with but also a warm, wonderful, and vibrant person. So many terrific memories. I am missing her already.
-- Steve Palmer
My own memories with Lynn go quite far back, too.  She gave a job talk at Oregon, probably in my 4th year of grad school, a time when I was just beginning to work with neurological patients. I remember my advisor, Steve Keele bouncing off the walls with excitement after the talk, only to be very disappointed the next week to hear she had come up short. While I was sorry she didn't join us in Oregon, a few years later I was thrilled to hear she was part of the Martinez Neuropsych. So instead of getting Lynn as a graduate school professor, I got her as a lifelong colleague and friend.
Soon after arriving, Lynn became my chauffeur of sorts, picking me up en route to Martinez for neurology rounds. Great opportunity to brainstorm about mutimodal hemispheric asymmetries, a discussion that culminated five year later in our book, The Two Sides of Perception. We stuck to our initial pledge to spend every royalty check dining at Chez Panisse. Brent, Lynn's husband who demanded his night on the town even when the royalty checks had dwindled to single digits.
Lynn was passionate about her science and the life science afforded. Her excitement over the latest results from her collaboration with Anne Treisman were only matched by her excitement over recent or upcoming globe-trotting adventures with Anne and Danny Kahneman. I was sorry for our cogneuro community when she retired a few years ago but Lynn was eager to shed work responsibilities so she could enjoy long visits in Oregon with her nephew Travis and his ever-growing family.
We will miss her.
-- Rich Ivry