Remembering Art Shimamura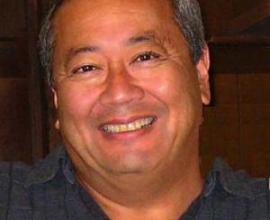 With sadness, we share the news of the passing of Art Shimamura at his home in Kailua, Hawaii, on October 6, 2020.
Art was part of the first wave of cognitive neuroscientists, co-authoring some of the most influential studies of memory disorders during his post-doc with Larry Squire at UC San Diego.  He continued with this line of work after joining the faculty at UC Berkeley in 1989, where his intellectual curiosity led to seminal research on the way in which attentional processes influence memory encoding and memory retrieval, work that stood out for its elegant manner of combining neuropsychological and neuroimaging methods.  With a flair for historical research, he contributed a fascinating article to the History of Photography on the early 20th century photographer Edward Muybridge, making the case that Muybridge's creative inspiration could be traced to personality changes that came about following a severe traumatic injury to the frontal lobes.
Over the years, Art developed a deep interest in aesthetics, both as a talented hobbyist with his camera and as a psychologist with his vast experimental skills. As he liked to say, "I'm finally being true to my name."  This shift first occurred when Art, turning back to his psychophysical roots, took up some work that cast a fresh light on some classic visual illusions. It then expanded to take up the science of aesthetics more broadly, culminating in a Guggenheim fellowship which resulted in his 2013 book, Experiencing Art: In the Brain of the Beholder.
Art was a wonderful teacher, mentor, and citizen of the University.  His Psych 1 class was a campus favorite, replete with his booger and donut jokes (and a university award for distinguished teaching). He was a founding member of the Cognitive Neuroscience Society and the Memory Disorders Research Society, and a mentor to many of the current leaders in these two organizations.  With his clarity of thought and calm but enthusiastic demeanor, Art generously provided advice and guidance to many young scientists as well as a broad range of scientists around the world. 
Art found his perfect match in Helen Ettlinger, the two of them enjoying exotic trips in quest of the perfect photo, a yen for obscure museums, and a love of great food. Art's many passions led him to retire early, and allowed the two of them, to establish a new base on Hawaii. There he was able to indulge his expanding artistic interests and take up writing for the general public about his walkabouts around O'ahu, his thoughts on the secrets of successful aging and tips for effective learning. Despite a bleak cancer diagnosis a few years back, Art maintained his positive attitude and kept up with his travels, inspiring us with his Facebook postings of amazing shots from New Zealand, Alaska, and the back roads of California. Probably best to hear about this in Art's own words in a blog he provided to Psychology Today.
In addition to his wife Helen, Art leaves his two sons, Tommy and Gregory, along with his ex-wife Joan Winters. The family asks that donations in Art's memory be made to the UC Berkeley Department of Psychology. Funds donated in his name will be designated for graduate support. Donations can be made here—please be sure to indicate that the gift is in honor of Art's memory. 
Art will be sorely missed. We invite you to share your remembrances and stories here to carry forward his aloha spirit.
Rich Ivry, Ken Paller, Bill Prinzmetal
Comments from Friends:
Art was an insightful and creative scientist with whom scientific discussion was always a pleasure. More than that, he was a warm, generous and considerate person, and wonderful company. I treasure the more than 30 years worth of memories I have of times spent in his company in California and farther afield. Like so many others, I mourn his passing and will miss him enormously. My deepest condolences to his family. -- Mick Rugg
Art was one of the first people that encouraged me to look at the role of the prefrontal cortex in episodic memory when I was an early graduate student at UCB. I devoured all the research he did in his UCSD days and would hang out in his lab, which wasn't my home lab, and chat with him about it.  He never acted like I was annoying him. He was super friendly and encouraging and continued to encourage me through grad school and beyond. I wrote to him a couple of years ago after I read his beautiful essay about facing terminal illness in Psychology Today. I was a bit nervous to do so but I wanted to make sure I told him that I remembered his kindness and encouragement and that he had made a major impact on my life. He was super gracious, lovely, and optimistic. I'm sad that you are gone Art. Thank you for everything. -- Audrey Duarte
I was very sad to learn that Art died. I had hoped that after surviving for two years after his diagnosis, he might actually lick the disease. His ebullience, love of life and energy made it seem more than wishful thinking. Alas, it was not to be.
It was always a treat to be with Art. Our research interests coincided, and although we held different views on many topics, our discussions were always friendly, even when they were  intense. Although he could be self-deprecating when discussing other matters, I rarely detected that trait when discussing research. He helped shape our field.
A few years ago I learned about his interests in photography and read his wonderful article on  Muybridge. Through it I discovered some of Art's photography, which is stunning. Having learned more about his talents and accomplishments over the last few years, I was looking forward to seeing him again, if not at MDRS, then maybe in Hawaii.
May Art's memory be a blessing and may his family have long life and good health. -- Morris
Art was an inspirational human being in so many ways, and a good friend who will be deeply missed. He became my academic older brother when he arrived as a new postdoc while I was a young grad student, and I continue to try to emulate his wonderful qualities. -- Ken
Art was an inspiration to me, both for his work on the neuropsychology of memory and for his intellectual leadership of the emerging psychological and neurophysiological study of film perception. He was always incisive, gracious, and funny. He modeled breadth of curiosity, wide collaboration, and managing to live a good life while doing great work. His passing is a loss to us all. -- Jeff Zacks
What a pointed and poignant reminder of our mortality.
I got here to the Dept for good the year after Art arrived.  Rich, Alison, Art, and I started out within about 12 months of one another.
Everything everyone else has said is so true--in terms of Art's research and teaching prowess, active mind, and artistic bent...as well as his super-kind and generous spirit.
I remember maybe 15 years ago when Bob K. got Mark D., Art, and me to form "Neuroeducators," doing half-day-long or day-long continuing ed. workshops on basic attention/memory all the way to disorders of attention/memory.  Though I wasn't in the market to get any CE for myself, I hung on every word of Art's lectures, which featured his vast and expansive knowledge of (a) the inseparability of memory and attention and (b) his now-standard-science but initially more controversial view of the frontal lobes and circuitry as not just 'brakes' on the rest of the brain but an active/proactive network.
I'm devastated that he's no longer with us. -- Steve Hinshaw
When I think of what it means to be a good mentor, I think of Art. He would support your ability to pursue a hypothesis even if he disagreed with it. He would call it a "milkshake bet"--he even made good on that by taking the lab to Fenton's ice cream parlor. Even if you were, in my case, a hubristic undergrad with some harebrained ideas for a senior thesis, he cared about you as a person and wanted to see you succeed. He taught you to be a good scientist, and he provided endless encouragement in the process. He filled the ShimLab with grad students who were some of the kindest people around. Perhaps because of Art, they were also outstanding mentors.
Art's enthusiasm for the neuroscience of human memory, and its potential applications, sparked my career path. And in addition to being a scientific role model, he exemplified how to live life to the fullest. He would take requests for tunes to play in the lecture hall before each Learning and Memory class; he even honored my request to play Jimi Hendrix's "Remember" before the final exam. Even in the midst of palliative care, he was quick to respond to emails and to share his sense of optimism. He had an infectious joie de vivre, and a sense of humor that would catch you off-guard (e.g. his speculation that he had "no orbitofrontal cortex").  His rigorous photography and writing pursuits outside of the lab inspired me to keep my own artistic life alive, in spite of the pressures of an academic career.
Art's example and support shaped my path forward, and enabled me to be where I am today. His lingering presence among us, his memory, will only become clearer with time. -- Brendan Cohn-Sheehy
I echo the sentiments expressed by others about Art Shimamura, who was a wonderful scientist and a wonderful human being.
Thanks to Ken Paller for bring Art's other works and talks to my attention. When I read Art's Get SMART book, I was reminded of one of Laird Cermak's last writings, his 2002 chapter in the Pathways to Prominence in Neuropsychology book. At the end of that chapter, Laird called for academic psychologists to do more to promote wellbeing in their communities, and Art's later writings are very much in that vogue.
It is only when people pass away that you become aware of ways in which you have shared interests and goals with them....when I read Art's Get SMART book and watched some of his talks, it reminded me of my own (feeble) efforts to do similar things, as in my Cambridge Wellbeing Manual (www.cambridgewellbeingmanual.com)! -- Narinder Kapur
Art set the bar for both science and how to be a good human being. I got my first experience with memory research as an undergraduate in his lab, and he remained kind to me throughout my career. My interests in the neuropsychology of memory, and my graduate and postdoctoral research on the prefrontal cortex and episodic memory was influenced heavily from my time in his lab.
When Art received his cancer diagnosis, it was assumed that he had only months left. He somehow managed to fight it, and he lived more during those last 3 years than many of us (myself included) do in a lifetime. He played guitar and ukelele, walked around the Hawaiian island of Oahu, traveled the world, and wrote many works to translate our research into something that lay people can use. Whenever we talked, he did not want to talk about himself--he was instead curious about how I was doing, and in particular, what I was doing outside of work. Whenever I shared good news, I could see that it made him genuinely happy.
In 2020, it's easy to be dispirited, and especially so today. But Art's description of his journey during his last years is uplifting and inspirational:
https://www.psychologytoday.com/us/blog/in-the-brain-the-beholder/201809...
It's a cliche to say that Art's memory will live on, but the fact is, any memory researcher from my generation owes a debt to Art as a scientist. As I've found from commiserating with his former trainees, his influence as a wonderful person and mentor will continue on as well. -- Charan Ranganath
My deep sympathies to Helen, and to Art and Helen's sons.
I'd like to offer my impressions as one of Art's former colleagues at UC Berkeley. Art was an early leader in the budding field of cognitive neuroscience: a talented experimentalist who helped to elucidate the roles not only of the hippocampus but also parietal and prefrontal cortices in episodic memory. And he was so much more than that as a scientist, teacher, mentor, communicator, and person. He was such a creative, inquisitive person, and was willing to take bold risks in his work and life. He had a true gift for teaching and science communication, with a flair for the dramatic, and his happy, ebullient disposition simply lit up a room. I know I'm just reiterating what everyone else has already said, but it bears repeating.
My first exposure to Art was as a grad student, attending a talk at which he explained the visual illusions that make the Mystery Spot such a bizarre experience. Other memories include watching him give a fabulous talk to the public at the Exploratorium on a 1970s themed night, where he ripped off his button-down shirt to reveal a tie-dyed t-shirt underneath. I also remember my job interview with him, to which he invited his students for a fun, informal chat about research. And when he reached out to me from Hawaii to tell me about his diagnosis and send me copies of several of his books -- including his last book: an engaging, practical guide on how to live a healthy life.
My impression is that Art lived well and died well: a model for us all. -- Silvia Bunge
Art was simply my savior in grad school. He was an amazing mentor who made me laugh every day. His incredible research  and artistic contributions go without saying. One of the funniest Art moments was when I was TA in his psychology class, and he was teaching about the parts of the ear, and he described the middle ear bones: the malleus, the incus, and the Santa Maria. And I watched 200 undergraduates write it all down. Art was one in a million and he will be sorely missed. -- Juliana Baldo
This is a terrible loss.  Art was so kind and generous with his time, and a lot of fun too.  
I will always remember him for teaching me so much about memory (now a major line of research for us). Only 2-3 months ago he was still answering my questions. 
He also inspired me to swim in the Bay after he and Darlene Francis did a race from Alcatraz to SF. Some of us watched the race from Bill Prinzmetal's boat.  I think Art may have come in 1st or 2nd in his age group.  Very cool!
I also remember a faculty meeting in the Beach Room on a steamy hot summer afternoon. We were discussing the financial wealth of another uni relative to us and that they even had works of art on their walls that cost more than $100,000. I think it was Irv Zucker who piped in  "Who cares! Our Art is worth SO MUCH MORE than THAT!". Everyone laughed loudly because we shared the values Irv was expressing AND everyone loved Art.
Anyway, I feel very sad to have lost a wonderful colleague and friend. -- Allison Harvey
Art was not only a leader in the cognitive neuroscience of memory, but also one of the finest people one could hope to know. I was fortunate to meet Art early in both of our careers, in the winter of 1983 when I was visiting Larry Squire's lab in San Diego for several weeks. Art had just arrived as a post-doc around this time and I was immediately won over by his sharp scientific insights and warm personal qualities. It was always a pleasure to run into Art at scientific meetings and discuss our shared interests in topics such as source memory and priming. Like many others, I am deeply saddened by his passing. -- Dan Schacter
I am deeply saddened to hear about Art's death. Everything said by MDRS colleagues has the clear ring of truth about it. Above all, he was a very generous, kind person with a lovely sense of humour, who was a delightful companion. We became friends back in 1983 when he was a post-doc in Larry Squire's lab at the San Diego VA hospital and I was there on sabbatical, sharing a room with Ken Paller. All three of us used to have great fun wind surfing on well-remembered sunny afternoons. Art often drove me when we were testing Korsakoff patients at locations that I did not know. On one occasion, the car had a puncture when we were in a middle lane on a crowded multilane carriageway but he coolly steered the unstable car to the side of the road, leapt out and had replaced the punctured tyre in next to no time. I thought then and I have never had reason to change my mind that Art was someone, who was able to keep his nerve in an emergency and act calmly and appropriately. I think that this was evident in Art's final three years when he had to deal with pancreatic cancer, that Stalin of cancers, two years after he had moved from Berkeley to Oahu, which Art thought of as paradise on earth. How he did this is beautifully described with lots of wit in Art's blog 'Maintaining an active brain and body – even with cancer'. I know it is a cliché to describe how people cope with cancer as brave but what Art showed was more than brave. He was accepting what had happened but calmly trying to cope whilst following the principles that he had espoused in the book, Get SMART, that he had recently had published. I think that Art was rightly proud of this book. Although the five main recommendations may be obvious to the cognoscenti, few follow those clearly correct principles. Art described them beautifully with great examples, clarity and humour and he exemplified those principles so well. The World would be a better place if there were more people like him. 
Just one more thought, Art was not just a leading contributor to research on the neuroscience of memory but, as has been pointed out by Mike Kopelman and others, he displayed many more talents as well. I loved the things that he unearthed about Eadweard Muybridge, including that this probably frontally damaged individual was unlike Phineas Gage in many ways, being a highly inventive photographic inventor, which perhaps entitles us to think of him as one of the creators of motion pictures, another interest of Art's. But Art was also a very good sportsman. I recall him diving in San Diego with great skill and he was an excellent long-distance swimmer. Not that many can claim, unlike Art, to have swum from Altratraz island to the San Francisco mainland. His life is an example to us all, although I am not recommending that you try swimming from Alcatraz to the mainland. You would, like him, need to be brave as well as an excellent swimmer to try that! 
We will all miss him. -- Andrew Mayes
Art played a small but important role in a story I sometimes tell about how my academic career developed.  As I was finishing my PhD at CMU, I became interested in the role of the brain in memory and cognition – this was 1992/3, when that idea was relatively newer and certainly new to me.  I was advised to seek out a post-doctoral position to learn some neuroscience.  In spite of having no background, I wrote to a few people who studied memory, including Art, but did not get any direct responses. However, at an upcoming meeting of APS, I found myself with the opportunity to play tennis with Art, coordinated by Lynne Reder because we were on the rec league tennis team in Pittsburgh together and she knew I was hoping to talk with Art.  After playing doubles for an hour or so, I still remember sitting courtside after in the beautiful San Diego weather and Art asking me what I was looking for, what kind of research I was interested in.  I don't exactly remember what I said, but I do remember that after talking for awhile he nodded and said that I really needed to talk to Larry Squire and that he'd make a call for me.  Whatever Art said to Larry, Larry came down, we met there in San Diego and worked out a future post-doc position.
Over the years as I got to know Art a little more, I realized that Art's taking the time to talk to, advise, and lend a hand to a junior (future) colleague was really who he was as a person. He was a kind, generous and genuine person and will be missed. -- Paul Reber
Art and I were brought together when I was finishing my graduate degree in Cog Psych at Berkeley. He was still doing his postdoc in San Diego in the Squire lab and that was where I was headed. We overlapped in the Squire lab for six months before he left to launch his career at Berkeley. With this overlap in our paths, we naturally bonded on all things Berkeley and San Diego.
He gave me tips about life in San Diego and I offered any inside info I had about Berkeley. This tradition continued when I returned to Berkeley for visits—a common occurrence for the first decade after I left.
Art was not only a great mentor to me, serving as a voice of reason when things got "a little nuts," but was also a wonderful friend. We remained in touch for three decades, which is incredible to me, especially given that our careers took different paths.
Just after his diagnosis, news of which he took with incredible grace and dignity, he offered to send me what he called his "trifecta" of self-published books. They are signed and sit proudly on my bookshelf. I will cherish them.
I hope he is somewhere enjoying a donut or two!
I will miss him! --Gail Musen
Loved Dr. Shimamura's Psych 122 Learning & Memory course and our brief post-lesson philosophical discussions. A genuinely awesome and caring man. Well-wishes to the family. --Ryan Oveisi