Congratulations to Alison Gopnik for receiving the Rumelhart Prize in Cognitive Science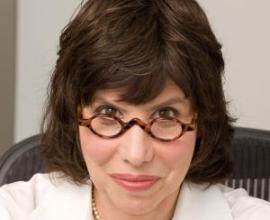 Alison Gopnik, a University of California, Berkeley, psychology professor whose research has transformed our understanding of how children learn and what they can teach us about ourselves, is this year's winner of the prestigious David Rumelhart Prize in Cognitive Science.
Named for the famed psychologist and heralded as the Nobel Prize in the field, the award honors scholars who have made fundamental contributions to the theoretical foundations of human cognition. The Cognitive Science Society announced the honor — which comes with a $100,000 cash prize — on Thursday at the group's annual gathering in Sydney, Australia.
"For years, I've said this was the prize that really counted to me," Gopnik said. "It's the prize for establishing the foundations of cognitive science, which is what I've spent my whole career trying to do."
Gopnik will formally receive the award next summer at the group's gathering in the Netherlands.
A UC Berkeley faculty member since 1988, Gopnik has researched how children learn to understand their own minds and how, given limited evidence, they nevertheless make sense of the world around them. She was one of the first cognitive scientists to study "theory of mind" — how we come to understand our own minds and those of others. She was also the first to show how even small children unconsciously use sophisticated computations, like Bayesian causal inference, to learn about the world and themselves.
Her work has challenged the longstanding idea that young children lack an understanding of others. And she's argued that babies are much smarter than they're given credit for, taking in vast amounts of information, while adults focus on efficiently using what they already know to accomplish particular tasks.
"My whole career since I was an undergrad really has been about trying to show that studying children could illuminate the basic foundational questions of cognitive science, not just about how our minds work but how any mind could work," Gopnik said. "That's what I've really wanted to do for my whole career. So I feel that this is a wonderful acknowledgment of that contribution."
The David E. Rumelhart Prize was created in 2001 to honor Rumelhart's foundational contributions to psychology and the study of neural networks that are foundational to artificial intelligence. The prize is funded by the Robert J. Glushko and Pamela Samuelson Fund. Glushko, who received a Ph.D. in 1979 under Rumelhart's supervision, is now an adjunct full professor in cognitive science at UC Berkeley; Samuelson is a Berkeley Law professor.
"Alison Gopnik's academic breadth in psychology, philosophy and linguistics is exceptional, and in addition, her non-academic writing and outreach have been highly influential," Glushko said. "The Rumelhart Prize honors the recipient, but Alison Gopnik also brings honor to the Rumelhart Prize."
Tania Lombrozo, a psychology professor at Princeton University and member of the selection committee, likewise praised Gopnik's "enormous impact" across disciplines spanning psychology and philosophy to artificial intelligence.
"Her contributions are not only deep but broad, showcasing how the disciplines of cognitive science can work together to give us a more complete picture of intelligence and the mind," Lombrozo said.
Gopnik credits her interest in abstract and complex ideas with her upbringing in a family of writers and thinkers. Her father was an English professor, and her mother was a linguistics professor.
As her career gained traction, she became more motivated to help the world understand the advances being made in child psychology and cognitive science. In addition to academic papers, Gopnik is a longtime contributing writer for The Wall Street Journal and The Atlantic. She's also the author of several books, including the 2009 bestseller, The Philosophical Baby: What Children's Minds Tell Us About Truth, Love, and the Meaning of Life. Among numerous media appearances, she's been interviewed by Charlie Rose, Stephen Colbert and Ezra Klein.
"We're doing this research for the public," she said, referring to her at-times dense work around child development, philosophy and AI. "It is often technical work that is hard for people to understand. But that just makes it more true that translating the research in a way that people can understand is really important."
In recent years, Gopnik has also won lifetime achievement awards from the Association for Psychological Science and the Society for Research in Child Development, as well as the Carl Sagan Prize for Science Popularization.
"Over almost four decades, her contributions in developmental psychology, and particularly in the areas of children's reasoning and causal learning, have shaped how cognitive scientists understand thinking," said Rick Cooper, a cognitive science professor at Birkbeck, University of London and head of the Rumelhart Prize selection committee.
Lately, Gopnik has increasingly focused on artificial intelligence, which has its roots in cognitive science. It's logical, she said, because if we want systems that are going to learn, it's essential to look at the best learners that we know of in the universe: babies.
"Having a developmental psychologist who becomes part of the Berkeley AI research group, that's just so Berkeley," she said. "That kind of interdisciplinary adventure is very much what we're all about as a university.
"And I think the Rumelhart is another recognition of that."
https://news.berkeley.edu/2023/07/27/uc-berkeleys-alison-gopnik-wins-rum...