Congratulations to Fei Xu for winning Guggenheim fellowship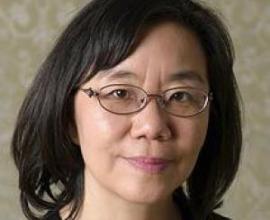 Three UC Berkeley professors are among this year's 175 John Simon Guggenheim Memorial Foundation fellows. The prestigious annual Guggenheim fellowships recognize scholars with impressive past achievements who show promise for future accomplishments in fields ranging from the natural sciences to the creative arts.
Fei Xu, professor of psychology. An expert on cognitive and language development in children, Xu will use the fellowship to continue her research in these areas, including an approach known as "rational constructionism" that examines the mechanisms of language and symbol learning, Bayesian inductive learning and constructive thinking. Among other honors, Xu is a fellow of the Association for Psychological Science and the Cognitive Science Society.
Of 3,000 Guggenheim applicants this year, fellowships were awarded to 175 U.S. and Canadian scholars. A complete list of the 2018-19 fellows can be found at this link.
Guggenheim fellowships are one-time-only grants that allow recipients the time and creative freedom to complete their research, book or other projects. The program was established in 1925 by U.S. Sen. Simon Guggenheim and his wife in memory of their son John Simon Guggenheim who died at age 17 in 1922.
http://news.berkeley.edu/2018/04/11/guggenheim-fellows-2018/